Playa Burica
Located in Central America where jungles are still wild and as of yet undeveloped, Playa Burica sits on the Pacific Coast near the border of Costa Rica and Panama, a scenic two-hour drive from the city of David and just minutes away from Costa Rica.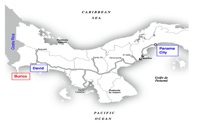 Panama Investment
Panama is the southernmost Central American country connecting North and South America. As a transit nation with a tropical climate, Panama is an international center for business and tourism.
Panama has the third largest economy in the Central American region and the largest expenditure for resource consumption, making it an ideal location for enterprise and investment.
Despite its strong leadership in the Central American economy, Panama features vast expanses of beaches and jungle wilderness spread across its coastline. There are many private properties and there are miles of relatively unexplored terrain.
Savvy travelers and smart investors recognize Panama and Playa Burica as a fantastic real estate opportunity brimming with wile adventure.
For a visual layout of the spectacular landscape Playa Burica and Panama offer, check out our maps, which show Panama real estate opportunities waiting for you.
Travel to Playa Burica
Reaching Playa Burica and the Panama real estate opportunity of a lifetime is a fantastic journey.
Travelers fly to David from either Panama City or San Jose, Costa Rica. Playa Burica is an amazing two-hour drive from David, with spectacular scenery including volcanoes.
The nearest town, Puerto Armuelles, is just forty-five minutes from Playa Burica, offering modern shopping facilities and other commercial services. The area offers tropical wilderness and all the conveniences for easy living and adventure rolled into one.
A new road is currently under construction to join Puerto Armuelles directly to the Playa Burica properties and Panama real estate. The road is 80% complete as of August 2008.
A five-kilometer drive along the beach at low tide provides the best access to the Playa Burica community.
Panama Lots and Cabanas
Playa Burica properties are set amongst natural terrain along the northwest Panama coastline, an ideal spot for tropical getaways, vacation adventures on the go and relaxation in the sun.
Cabanas include numerous amenities, making Playa Burica real estate the perfect investment escape for explorers and investors who appreciate basic comforts and conveniences in an untamed setting. Where else could you live such adventure at your fingertips?
Click here to read more on how to take advantage of Playa Burica real estate opportunities and how to buy real estate in Panama on lush Playa Burica.
Fishing Lodge in Burica
Footage of the fishing lodge in Burica Watch video