Enjoy Your Private Getaway
Your rustic, native-style Playa Burica cabana has an eco-friendly mindset. Its construction minimizes local environment impact while providing maximum privacy for your personal freedom.
Palm tree trunks and other local, natural materials provide support, and the straw-topped roof lets your cabana blend in with its surroundings.
These structures require very little maintenance, and they make your visits to your very own Panama property convenient and comfortable.
Cabana Downstairs
Video of the downstairs portion of the Lot 12 Cabana. Watch video
Cabana Upstairs
Video of the upstairs portion of the Lot 12 Cabana. Watch video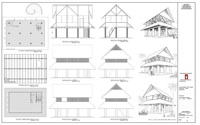 Click for a larger View of the cabana, kitchen, & shower area blueprints.
What's Included?
All two-story cabana structures offer:
500 square foot foundation
Running water
Kitchen sink
Gas cook top
Outdoor stone shower
Bathroom with toilet and sink
Septic tank system for waste and disposal
Hang your hammock, set up indoor or outdoor furniture, and stow your baggage and sporting equipment easily. Your beachfront cabana gives you full access to the ocean for swimming, surfing, fishing, and other water sports and activities right outside your door!
It's Your Choice
You can choose if you would like for your lot to include a cabana. Just add $14,900 to add one like you've seen on Lot 16, or contact us to discuss some slight modifications.
Live your tropical getaway dream – but hurry. Panama real estate investment opportunities like these don't come along every day. Click here for the steps to buy so you can start living your adventure.